Showing and Leasing
Leasing:
Those that are showing and\or riding with Cedar Lodge have the option of leasing one of the many quality school or show horses from our stable string. This has become an extremely popular option with many different types of riders.
Some of those rider types are:
• Those thinking of buying a horse but wanting to make sure it is the right decision.
• Those that want to buy but wanting to improve themselves to a higher level of horse.
• Those with young horses that want to continue their own riding while their youngster is still growing.
• Those that would like to ride more, but not ready for the commitment of owning.
• Those whose horse is out of commission for some reason, either lame, too old or pregnant.
• Those that have a million other reasons!
Cedar Lodge has both partial or full leases available. Most horses used are CLS's own string, however some boarded horses become available from time to time as well. Most of these horses are higher level show horses, and are available for select riders only. Cedar Lodge Stable string up for lease involves horses of all levels, sizes and ages and the utmost of care is taken to select a horse with the riders goals and safety in mind. Leases on CLS horses run from September until June except by special arrangements. Boarded horse lease agreements may run all year long. Any clients interested in leasing horses under Cedar Lodge Stable's care must be taking regular lessons at Cedar Lodge and all leasing is done on grounds basis only.
Please contact Chris Cochrane for more information: (269)674-8072 cedarlodgestables@gmail.com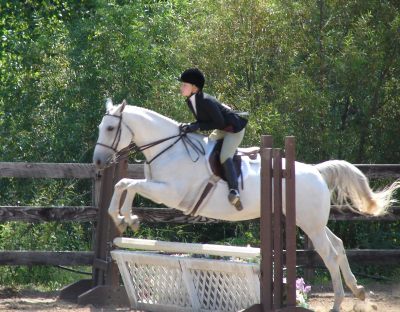 Showing:
Cedar Lodge Stables may be showing as much as 2-3 weekends every month from May until Oct. to fulfill the needs of their showing clients and young horses. For a list of Show dates for this year, visit Cedar Lodge Calender of events. Several of these shows each year will be hosted at Cedar Lodge. Yearly, Cedar Lodge has several schooling shows, LMHJA shows and IEA shows on their calendar. For a complere lists of shows, as well as show bills please click: Cedar Lodge Show Calendar
Our show riders participate in three different types of show circuits: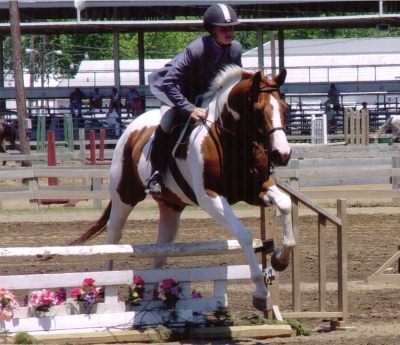 Circuit one:
Circuit one is a group of small, local schooling shows held in spring and fall. These shows often are combined as a circuit and sometimes are individual shows. They are usually one day, and usually that day is Sunday. CLS participates in several of these both spring and fall, and hosts one in the spring. These shows prove as an excellent place to bring young horses and riders for their beginning show experiences, and ready them for a larger more intense circuit.These shows are open to Cedar Lodge campers as well, who will often lease a show horse from our string to participate. Click here for more information, including dates for upcoming shows.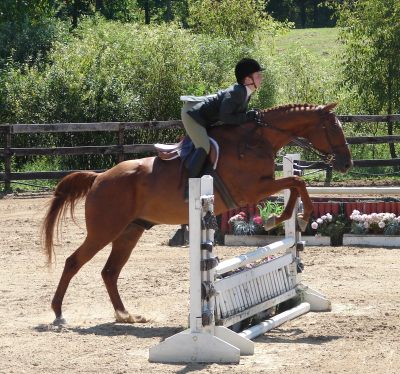 Circuit two:
Circuit two is a local "B" circuit of shows comprising the Lake Michigan Hunter/Jumper Association show circuit. CLS usually travels to 80-100% of these shows each season, and hosts one LMHJA on Cedar Lodge Stables grounds over Labor Day weekend. LMHJA shows are comprised of two rings: the Basic Ring, starting at cross rails classes up to 2'3″ and the Regular Ring, starting at 2'3″ up to 3'3″ Hunters, and 2'6″ to 3'9″ Jumpers. Because of their variety of classes, LMHJA shows prove to be a nice next step for those that have shown with CLS on Circuit One shows. Shows run Saturday and Sunday, and there is often schooling on Friday as well. Students that are interested, and committed to showing in at least 80% of the LMHJA circuit shows should consider being members of the association. Membership allows riders to participate in medal classes, and qualify for year end awards in the divisions in which they show. LMHJA hosts an awards banquet every year in November for all members. Cedar Lodge Stables and it's customers sponsor several year end awards on the LMHJA circuit.
In addition to LMHJA shows, Cedar Lodge often finds itself looking for additional shows to fill it's calendar. CLS often travels to Lake Effects and MHJA "B" level shows to fill the needs of their customers. Though these are both very nice show circuits and their classes are similar to the LMHJA shows, CLS travels to less of these, as they are a farther distance to haul and therefor more of a time commitment.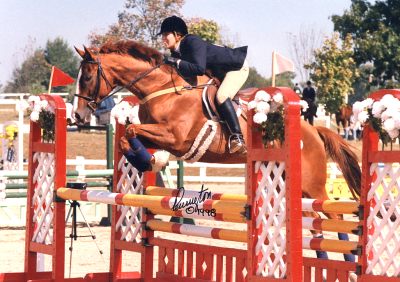 Circuit three:
Circuit three shows are "A" shows that Cedar Lodge Stables may choose to attend. In the past, Cedar Lodge has traveled to "A" shows held in Detroit, Jackson, Chicago and Kentucky. These shows run from 2-4 days, and require a larger commitment of time, money and energy. Only those that are seasoned showers are qualified to show with CLS at this level. Because of the commitment that showing far away entails, CLS must have a group of students interested in this kind of horse show to put an "A" show on their calender.
Philosophy
With all this talk of showing, I think it would be amiss not to discuss Cedar Lodge Stables philosophy of showing. Cedar Lodge and it's staff are dedicated to developing riders to be the best that they can be. Whether our riders decide to show, pleasure ride or become working professionals, makes little difference to us. We are serious about discovering what each individual's goals are, and helping them achieve them. To that end, though Cedar Lodge Stables travels to many shows through out the year, our goal at shows is not to win.
Yes winning is nice, and it's not like we volunteer to give the ribbons back:) but showing to us is merely a way to gage the progress of our riders and horses. It is merely a stepping stone. We are just as content a rider's performance when they nail that lead change they've been working so hard on, or finally find that allusive distance as when they bring home the Championship. In fact, a mediocre performance that happens to win the blue will got by with no less criticism just because it won. We expect nothing but their best efforts from our riders, as we do from our horses and ourselves. If that wins, great. If it doesn't there is always something more to learn from the experience.